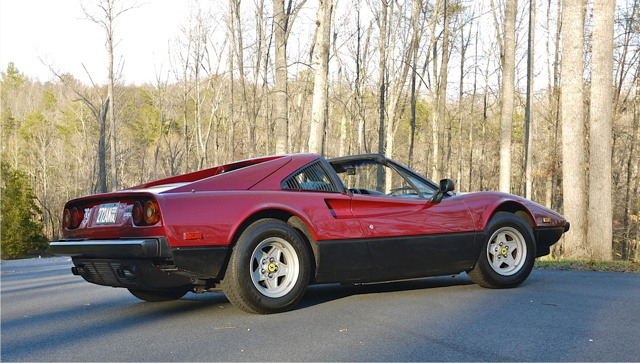 I recently got a 1980 Ferrari 308GTSi, primarily as a restoration and project car.
I first fell in love with Ferraris from watching Magnum P.I, and this is the Magnum car, so...
I've put up some photos of the car here and some of the work photos here
I'm planning on making sub-pages with details on some of the repairs for others.
I've been trying to keep a list of what all I've done to it. I've managed to forget many of the things (many of them are a "while I'm in here I might as well just..." type events). Here is an initial list, from April 2014 to August 2014:
What
Changed drivers's rear outside brake caliper.
Bled brakes (drivers rear only, purchaced caliper adjuster covers)
Installed Edelbrock/Russell Speed Bleeders on rear calibers
Removed handbrake pully mechanism, disassembled, cleaned and lubed
Painted rear emblems.
Removed driver's door panel, lubricated the window motor / mechanism, cleaned window switch contacts.
Cleaned signal / headlight contacts.
Removed driver's seat, fixed seat rails (slider mechanism / bearing worn, removed bearings)
Removed and clean shift knob, removed and polished shift gate.
Removed tail lights, disassembled and cleaned
Installed JVC KD-NX5000 Single DIN NAV system
Installed replacement powered radio antenna
Removed and cleaned battery connectors, grounds in front trunk, repaied battery cutoff switch.
Made new spare wheel tie down (McMaster Carr)
Installed Dynamat in trunk, cleaned and repaied sound insulation / heat stuff
Reglued trunk carpets (rear, light covers, etc)
Redid the trunk weather stripping (replace sometime?)
Painted exhaust / cat cover
Removed and painted pedals
Disconnected cold start air valve
Cleaned contacts on Magneti Marelli MED 801A Digiplex (ECUs)
Cleaned contacts on ignition coils
Installed new fuel accumulator. Discovered frayed fuel hose.
Installed new LED headlights
Installed new braided steel tank to pump fuel line
Replaced clock.
Removed and painted plenum
Removed and cleaned throttle body
Replaced fuel lines from fuel distributor to the injectors on bank 1
Replaced all fuel injectors - reused injector seals
Replaced the oil sender unit.
Replaced oil filter / oil / crush washer
Replaced fuel lines from fuel distributor to the injectors on bank 2
Drove Bluemont to Dulles
Drove Father's Day carshow.
Fixed fiberglass in passender door card (so card stays on better)
Installed Dynamat in passenger door card
Restrung and relubricated the passenger side window. Now closes fully!
Installed new door edge warning lights
Adjusted passenger door lock / locking mechanism
Installed stainless steel braided brake lines, bled brakes.
Installed new front and rear brake pads
Painted and reinstalled undertray
Adjusted handbrake cable
Replaced fuel filler hose (Gates 23976), cleaned up filler neck, cap, vent tubes
Cleaned and painted passenger fron suspension arms
Created battery tie down plate, bolted down battery.
Installed new battery cut-off switch
Adjusted clutch cable, took up slack and lubricated cable (now doesn't have odd detent!)
Installed new duct to airbox boot.
Installed Verell's shifter bushing
Repaired driver's door lock spring.